2020-2021
2020-2021
Speaker: Naoko Taguchi
Date: Friday, April 9, 2021
Time: 2:30-4:00 p.m.
Title and abstract: LBLT, technology, and game-based pragmatics teaching
Zoom link: https://psu.zoom.us/j/99282637621
Abstract: With the recognition that pragmatics, like grammar and vocabulary, needs to be taught explicitly in the second language (L2) classroom, teachers and researchers have explored a variety of frameworks and approaches for teaching pragmatics (Taguchi & Roever, 2017). As part of this effort, there has been an emerging trend of applying the framework of task-based language teaching (TBLT) to instructional design and assessment in L2 pragmatics (Gonzalez- Lloret, 2019; Taguchi & Kim, 2018). In this presentation, I will discuss how TBLT can be profitably applied to pragmatics instruction and how technology can facilitate this application. TBLT offers useful insights into the design of goal-oriented tasks that reflect real-world language use. At the same time, the task design and implementation process in TBLT can be facilitated in technology- mediated environments. In the first part of my talk, I will articulate the connection between pragmatics and TBLT by highlighting the benefits of integrating theories, methods, and practices of these two fields. Then, I will present my on-going research in technology-mediated, task- based pragmatics instruction using digital games. 
Bio: Naoko Taguchi is Professor in the Applied Linguistics Program at Northern Arizona University, where she teaches courses in TESOL methods, second language acquisition, and linguistics. Her research interests include pragmatics, intercultural competence, technology assisted learning, and English-medium education. Her recent books include The Routledge Handbook of SLA and Pragmatics (Routledge, 2019), Second Language Pragmatics: From Theory to Research (with Jonathan Culpeper and Alison Mackey; Routledge, 2018), Second Language Pragmatics (with Carsten Roever; Oxford University Press, 2017), and Developing Interactional Competence in a Japanese Study Abroad Context (2015, Multilingual Matters). She is the co-editor of a new journal, Applied Pragmatics (John Benjamins).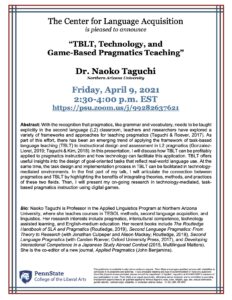 Speaker: Stefanie Wulff
Date: Friday, March 19, 2021
Time: 2:30-4:00 p.m.
Title and abstract: Usage matters: theoretical and methodological implications
Zoom link: https://psu.zoom.us/j/96423188444
Abstract: The notion of "usage" is traditionally associated with usage-based approaches to language acquisition, but more recently, theoretical frameworks across the board pay increasing attention to the role that usage plays in language acquisition. This development prompts us to look more closely at what usage really means, and what a definition of usage entails for how we should like to phrase research questions, what types of data we need, and the kinds of methods we should like to use. My talk is divided into three parts. In the first part, I outline the historical roots of "usage" in cognitive-functional linguistics before turning to a brief description of more recent work that suggest a place for usage across theoretical perspectives. I then discuss three key aspects of my understanding of usage and their implications for empirical research: (i) usage is contextualized use, with context here including language-internal and –external factors that jointly impact how a usage event is realized. This implies that we need complex, multifactorial models to measure usage adequately. (ii) Usage reflects individual variation, meaning that usage unfolds differentially for each individual learner over time. This implies that we cannot simply pool data across learners, but should care to (also) track individual learners' usage. (iii) Usage not only means output, but also exposure to the second language. This implies that we should not only look at learner production, but must also take into consideration what kind of and how much input learners receive. I close with a discussion of further methodological and theoretical implications and desiderata for future research.
Bio: Stefanie Wulff is an Associate Professor in the Linguistics Department at the University of Florida, and from 2019-2023, a Professor II at UiT The Arctic University of Norway. Her research interests are in second language and heritage language acquisition, usage-based linguistics, quantitative corpus linguistics, and student writing development through data-driven learning. She is editor-in-chief of Corpus Linguistics and Linguistic Theory (de Gruyter Mouton).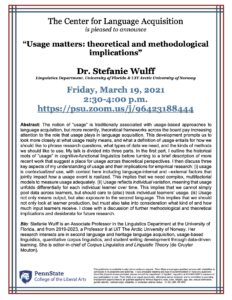 2019-2020
2018-2019
2017-2018
2016-2017
2015-2016