2021-2022
Speaker: Francis Troyan
Date: September 16, 2022
Time: 2:30-4:00PM
Location: Foster Auditorium (In-person)
Abstract: Because of the dynamic relationship between linguistic identities, ideologies, and classroom practices, it is critical for language teachers to develop an understanding of the linguistic repertoires and practices that they and their students bring to the classroom. To this end, we engaged language teachers in a space to discuss and deconstruct the functions of the varieties of languages in their repertoires using systemic functional linguistics (SFL). This multiple case study illustrates how language teachers reflect on their understandings of their linguistic diversity through the analysis of their own language use in light of SFL concepts. Data included the teachers' written reflections in which they applied SFL to analyze their language use, the visual representations that they created to illustrate their language use across contexts in their lives, and follow-up interviews about their identities as language users and about their conceptual understanding of linguistic diversity. The findings depict the distinct trajectories of each teacher, which were determined by their historical experiences, as well as their individual takes on the concepts taught in the course. This study illuminates the ways in which SFL can be used by language teacher educators to highlight and develop language teachers' awareness of their own linguistic identities and repertoires as they learn to enact critically-oriented language teaching pedagogies. Additionally, we provide further evidence for the potential of SFL theory as a key component of the knowledge base for language teaching.
Bio: Francis John Troyan is Associate Professor of Language Teacher Education at The Ohio State University (OSU) in Columbus. A former classroom teacher of French, Spanish, and ESL, his teaching and research focus on world language teacher development, genre and functional linguistics in K-12 world language education, and teacher practices in dual language immersion education. His research has appeared in Teaching and Teacher Education, International Multilingual Research Journal, The Canadian Modern Language Review, Foreign Language Annals, and Language and Sociocultural Theory. His 2022 edited book Genre in World Language Education provides examples of genre-based pedagogy in languages including Arabic, French, German, Japanese, and Spanish.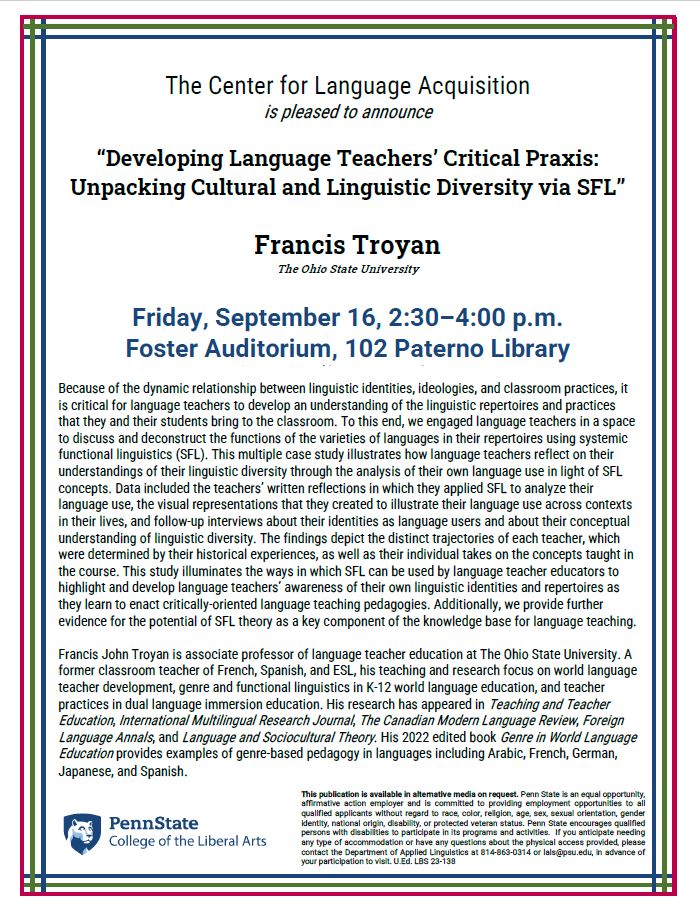 —————————————————————————————————————————————————————–
Speaker: Ryuko Kubota 
Date: Friday, April 15, 2022
Time: 2:30-4:00 pm
Location:
Virtual via Zoom
Title: Critical Race Research and Teaching for Language Studies
Abstract: Antiracism and social justice have been illuminated in North American societies since a surge of Black Lives Matter movement in 2020 and protests against anti-Asian racism in 2021. The field of language studies has also begun to pay increased attention to antiracism and social justice. However, the recent backlash against critical race theory requires us to have an informed understanding of critical race research and teaching. In this talk, I will first outline key concepts, including the concept of race, different kinds of racism, intersectionality, the relationship between race and language, and the need to decolonize antiracism. While the discussion on these ideas tends to take place in North America, the intersectionality of race and language is manifested abroad in varied ways. To illustrate this, I will present a study which analyzed video accounts of three African American female English teachers in South Korea who are also YouTubers. Their experiences of both linguistic privilege and racialized otherness demonstrate how these Black women's intersectional subjectivities traveled and experienced differently as they physically traveled across the national/cultural border. This research indicates the global need to address antiracism and social justice within language education. 
Bio: Ryuko Kubota is a Professor in the Department of Language and Literacy Education at University of British Columbia, Canada, where she teaches applied linguistics and teacher education. Her research draws on critical approaches to language education, focusing on race, gender, culture, and language ideologies. Her work has been published in journals such as Applied Linguistics, Critical Inquiry in Language Studies, Ethnicities, Journal of Second Language Writing, TESOL Quarterly, and World Englishes, and in many edited books. Additional publications include Race, culture, and identities in second language education: Exploring critically engaged practice (Routledge 2009). 
————————————————————–———————————————–
Speaker: Julie Sykes
Date: Friday, September 3, 2021
Time: 2:30-4:00 p.m.
Zoom link: https://psu.zoom.us/j/95293164538
Title: Expanding Our Approach to Proficiency: Interlanguage Pragmatic Learning in a Digital World
Abstract: The study of language in the 21st Century necessitates a global perspective that considers a multiplicity of contextual variables concurrent with frameworks capable of operationalizing various dimensions of human interaction. Adding to this necessity is an ongoing global pandemic which is accelerating the already continual emergence of digital technologies and digitally-mediated discourse. In response, language educators must prepare learners for possibilities of communication in ways never-before imagined (Thorne, Sauro, & Smith, 2015; Sykes, 2019). Moreover, the patterns for communicating and interpreting meaning are increasingly difficult to define, isolate, and teach; however, they are, simultaneously, more accessible to learners.  
This presentation will explore the what and how of interlanguage pragmatic teaching and learning in this ever-changing landscape. In doing so, it will first explore the what through a multidimensional, dynamic framework for addressing interlanguage pragmatics across learning contexts and through the inclusion of digital discourse(s) in learning models. Then, to consider the how, the presentation will use data from two implementation projects to synthesize instruction and assessment findings in four critical areas – (1) knowledge, (2) analysis, (3) subjectivity, and (4) awareness. The approach places skill development at the forefront of learning and, in combination with emerging digital tools, offers a means to overcome barriers to the learning and assessment of pragmatics in a multiplicity of language learning contexts. Implications for teaching and future research will be presented. 
Bio: Julie M. Sykes earned her Ph.D. from the University of Minnesota. She is the Director at the Center for Applied Second Language Studies and an Associate Professor in the Department of Linguistics. Her research focuses on applied linguistics and second language acquisition with an emphasis on technological and pedagogical innovation for interlanguage pragmatic development and intercultural competence. Julie's experience includes the design, implementation, and evaluation of online immersive spaces and the creation of place-based, augmented-reality mobile games to engage language learners in a variety of non-institutional contexts. She has published various articles on computer-assisted language learning (CALL)-related topics, including synchronous computer-mediated communication and pragmatic development, gaming and CALL, and lexical acquisition in digitally mediated environments. Julie is the recipient of the 2018 University of Oregon Research Award for Impact and Innovation.
____________________________________________________________
Speaker: Paul Toth
Date: Friday, October 1, 2021
Time: 2:30-4:00 p.m.
Zoom link: https://psu.zoom.us/j/99405731096
Title and abstract: 
A multi-site study of L2 Spanish grammatical consciousness-raising tasks in three US high schools
This study compares L2 Spanish learning following inductive consciousness-raising tasks vs. deductive teacher explanations in three U.S. high schools. Participants came from eight intact, third-year classes, with two in each school experiencing three 90-minute lessons on the pronoun se containing either deductive teacher explanations (n = 48) or consciousness-raising tasks (n = 50). Two other classes in one school did unrelated work as a control group (n = 30). Deductive instruction provided ready-made rules for se, followed by sentence-level examples. Learners then identified tokens of se in narrative texts. Following Adair-Hauck and Donato (2016), the consciousness-raising tasks first had learners interpret the meaning of each text before having their attention drawn to the structure. Learners then proposed rules for se in small groups before being guided toward a consensus through a whole-class, dialogic "instructional conversation" (Tharp & Gallimore, 1988). Identical communicative tasks followed in both groups for the remaining 45 minutes. At issue is the impact of explicit, inductive problem-solving over grammar on L2 learning, as advocated in both social and cognitive L2 theories (Leow, 2015; van Compernolle, 2015).
Quantitative assessments included written picture description and grammaticality judgment tasks administered as pre-, post-, and delayed posttests, while qualitative data was gathered by recording all whole-class interactions and 3-4 sets of volunteers during small-group work. The results indicate that although both groups improved significantly in uses of se after instruction, the deductive group made modestly stronger gains on their grammaticality judgments. Nonetheless, both groups overgeneralized se to contexts that shared some of its semantic properties, while also exhibiting L1 transfer errors. Excerpts from the qualitative data suggest that, in all three schools, the deductive format may have more efficiently resolved learners' uncertainties over se within the available time. Implications for the accessibility of explicit grammatical knowledge for language use and the implementation of deductive and guided inductive instruction will be discussed.


2020-2021
2019-2020
2018-2019
2017-2018
2016-2017
2015-2016