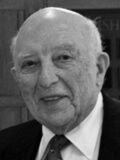 Gil Watz Memorial Lectures are endowed by Gilbert R. Watz (PSU '49), who was a committed supporter and benefactor of the Center for Language Acquisition. He believed that mastery of a second language was essential not only for successful participation in the global marketplace, but also as a bridge to increased intercultural understanding and community service. Though an oil industry executive by trade, he dedicated himself to learning Spanish as an adult, and provided many years of volunteer service as an interpreter in the Greater Houston area. His generosity has provided substantial resources for building a vibrant and exceptional Applied Linguistics community at Penn State, including dissertation fellowships, awards to outstanding graduate students, sponsored lecture series, and in 2011, an endowed Early Career Professorship in Languages and Linguistics. Gil Watz was a warm and enthusiastic supporter of undergraduate and graduate education at Penn State, and we are truly grateful for his many contributions over the years.
Richard Kern (2018)
Richard Kern (2018)
Speaker: Richard Kern Date of Talk: March 12, 2018 Location: Foster Auditorium Title and abstract: "Five Principles of a Relational Pedagogy: Building on the Social, Individual, and Material Foundations of Language Use" This talk outlines an approach to language teaching that brings attention to relationships among material, social, and individual dimensions of language use, with particular emphasis on literacy practices. This approach involves reflection on how technologies and mediums influence the design of communication and embody values and fundamental ideas about what communication is. A critical semiotic awareness of how meanings are made, framed, and transformed in particular contexts of language use is essential to twenty-first century learners because they face a singularly pervasive mediascape that is potentially as exploitative as it is emancipatory.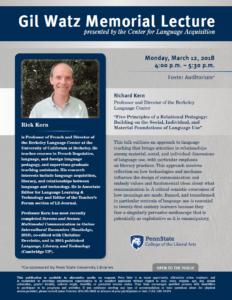 Lourdes Ortega (2016)
Lourdes Ortega (2016)
Multilingual Success: Continuous, Probabilistic, and Beyond Language
Dr. Lourdes Ortega, Professor & Head of Applied Linguistics, Georgetown University
March 21, 2016
112 Chambers
Abstract
How successful are adults in their learning of new languages? Traditionally, the field of second language acquisition has answered this question rather pessimistically, comparing multilingual success directly to monolingual success. Dr. Ortega will explore an alternative view that (1) can be applied to a continuum along both early and late bilingualism, (2) capitalizes on probabilistic rather than categorical success, and (3) goes beyond strictly linguistic notions of competence. This view of multilingual success, she will argue, can have transformative implications for research and teaching.
Dr. Ortega is Professor in the Department of Linguistics at Georgetown University. Her work has appeared in journals such as Annual Review of Applied Linguistics, Applied Linguistics, Journal of Second Language Writing, Language Learning, Language Learning & Technology, Modern Language Journal, Studies in Second Language Acquisition, and System. Her most recent books are Technology-Mediated TBLT: Researching Technology and Tasks (co-edited with Marta González-Lloret, John Benjamins, 2014), The Usage-based Study of Language Learning and Multilingualism (co-edited with colleagues, Georgetown University Press, 2016), and Understanding Second Language Acquisition (1st edition with Hodder, 2009; revised edition forthcoming with Routledge).
Holbrook Mahn (2014)
Holbrook Mahn (2014)
"Vygotsky's Analysis of Meaning Making and its Implications for L2 Teaching/Learning"
Dr. Holbrook Mahn (University of New Mexico) 
Date: Monday, April 14, 2014
Time: 4:00-5:30 p.m.
Location: Foster Auditorium (Paterno Library)
In this Gil Watz Memorial Lecture, Holbrook Mahn examines a central, but often overlooked, aspect of Vygotsky's work–the analysis of the system created through the unification of thinking processes and those involved in the use of language in its myriad manifestations. In that analysis, Vygotsky focused on the internal development of meaning acquired through language use, examining its origins and path of development, the form of its development, and finally the way that its use in practical activity shaped its development. Mahn will examine a number of reasons why this central aspect has been overlooked, starting with the varied interpretations of Vygotsky's methodological approach. Without a clear understanding of his approach and its relationship to his theoretical framework, it is difficult to appreciate his analysis of the processes through which children make meaning of their sociocultural, natural, historical worlds, and create systems of concepts. This presentation examines two key concepts Vygotsky used in analyzing these processes–perezhivanie and the social situation of development–relating them to his analysis of concept development. By situating Vygotsky's better-known concepts–the zone of proximal development, semiotic mediation, social interaction, psychological tools, and practical activity–in his analysis of the internal meaning-making system, Mahn will present a different perspective on these concepts. The lecture concludes by looking at implications that can be drawn from Vygotsky's analysis of children's meaning-making processes and concept development for studying second language acquisition and for teaching/learning a second language in school.
Holbrook Mahn, Professor in the Department of Language, Literacy, & Sociocultural Studies at the University of New Mexico, has extensive publications in national and international journals and books on the work of Lev Vygotsky. Over the past two decades he has collaborated closely with Vera John-Steiner. At UNM, he teaches courses in the theory and practice of teaching English as a Second Language, with a particular focus on second language literacy. Prior to teaching at UNM, Mahn taught high-school ESL in inner-city schools in Los Angeles.
This lecture is co-sponsored by the University Libraries.
Daniel Everett (2014)
Daniel Everett (2014)
On the Role of Culture in the Emergence of Language"
Dr. Daniel Everett, Professor of Global Studies and Sociology, Bentley University
Wednesday, November 5, 2014
4:00pm- 5:30 pm
Foster Auditorium (Paterno Library) 
Merrill Swain (2013)
Merrill Swain (2013)
"Affective and Cognitive Enhancement Among Older Adults:  The Role of Languaging"
Dr. Merrill Swain, Professor of Second Language Education at OISE (Ontario Institute for Studies in Education)
Monday, April 8, 2013
2:30-4:00 p.m.
Foster Auditorium (Paterno Library)
Global rates of mild cognitive impairment (MCI) converge in the 14-18% range for persons aged 70 years and older. One possible source of MCI among older adults may lie in teh lack of opportunities they have to use language. If opportunities are limited, then cognitive loss rather than cognitive maintenance or development might occur. In this talk, I will discuss three exploratory case studies of residents with MCI who were living in a long-term care facility and who raely engaged in conversations with staff, other reisdents or visitors. Each of these residents engaged in "languaging" activities with a researcher during a two-to three-month period. Languaging is the use of language to mediate higher mental cognitive and affective processes.
I will discuss both the theoretical foundations of the study and the results. The theoretical basis draws on Vygotsky's work which proposed language as one of the most important mediating tools that human beings have at their disposal for the development and use of higher mental processes. Vygotsky also argued that cognition and emotion are inextricably intertwined. Based on these ideas, our research explored the cognitive/affective consequences of languaging for our three participating residents.
Merrill Swain is Professor Emerita of Second Language Education at the Ontario Institute for Studies in Education in Canada. Her research focuses on sociocultural approaches to the teaching and learning of second languages in immersion programs and in traditional language learning classroom settings. She has received numerous awards for her outstanding contribution to the field of second language acquisition, notably for work on communicative competence, the Output Hypothesis, and innovative approaches to second language classroom research methodologies.