2009 Institute
2005 Institute
2002 Institute
2009 Institute
2009 Institute
The Third International Summer Insititute in Applied Linguistics was held on the Penn State University Park campus from June 22 to July 17, 2009. The Institute brought together internationally recognized faculty in applied linguistics and over one hundred graduate students from across the globe. The Institute featured twenty-seven different courses ranging from 'Cognition & SLA', to 'Self, Identity and Agency in the Language Classroom,' to 'Sociocultural Theory and L2 Development,' among others.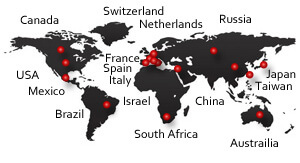 As in past years, the 2009 Summer Institute was very international, including faculty and students from Applied Linguistics communities around the globe.  The map above indicates the wide variety of geographical areas that summer institute participants hailed from.
Travel Grant Awardees
Dejan Ivkovic, York University, Toronto [AAAL Travel Award]
Tziona Levi, Tel Aviv University [Center for Language Acquisition Travel Award]
Polina Vinogradova, University of Maryland [Center for Language Acquisition Travel Award]
General information about the 2009 Summer Institute in Applied Linguistics courses can be found here.
2005 Institute
2002 Institute