The Kirby-Greer Endowed Lectures are supported by William Joseph (Jay) and Catherine Craig Kirby and George and Jane Greer.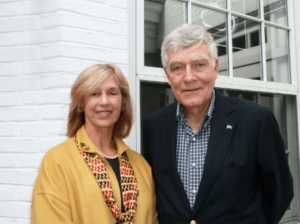 Jay graduated from Penn State in 1959 with a degree in labor management and received his master's degree from Cornell University. Catherine graduated from Penn State in 1961 with an arts & letters degree. Jay is the retired senior vice president of FMC Corporation in Chicago, IL, a leading producer of chemicals for agriculture, food, and pharmaceutical markets. Together they established the William J. and Catherine Craig Kirby Professorship in Language Learning in the College of the Liberal Arts in 1998.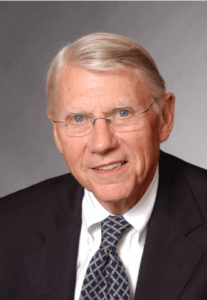 After graduating with an arts and letters degree from Penn State in 1954, George earned his law degree from the University of Pennsylvania in 1957 before starting a 37-year career at H.J. Heinz Company in Pittsburgh. He retired in 1997 as Vice President for Organizational Development and Administration. During his tenure at the company, he assisted and supported the greater Pittsburgh community, including projects with Penn State, through the H.J. Heinz Company Foundation. He and his wife, Jane, established the George C. and Jane G. Greer Professorship in Language Acquisition in the College of the Liberal Arts in 2005.
Nikolai Veresov (2023)
Anne Feryok (2022)
Meg Gebhard (2020)
Carl Ratner (2019)
Terrence Deacon (2017)
Peter Smagorinsky (2017)
Nikolai Veresov (2023)
Speaker: Nikolai Veresov
Date of talk: January 26, 2023, 4:30-6:00p.m.
Title: Demystifying the concept of Perezhivanie: man, culture, language, and social environment
Abstract: In this lecture Nikolai Veresov presents and reveals Perezhivanie as the most intriguing and mystical concept of Vygotsky's cultural-historical theory of development. Language acquisition as part of the acquisition of human culture is a form of cultural development. Psychological development of a human being should be understood only as an aspect of the process of cultural development. Traditional theories of development are based on the metaphor of the mirror and the principle of reflection. Cultural-historical theory challenges this metaphor and proposes a metaphor of the prism and principle of refraction. Perezhivanie is a kind of prism through which an individual refracts events in the environment and forms his attitude to it – the unique way of how a person perceives, understands, interprets and emotionally relates to the socio-cultural environment. Perezhivanie thus becomes the central fact of psychological development which explains the influence of the environment on the course of development.
Bio: Dr. Nikolai Veresov is an Associate Professor at Monash University, Australia. He has got his first PhD degree in Moscow in 1990 and started his academic career in Murmansk (Russia) as a senior lecturer and the Head of Department of Early Childhood. The second PhD was obtained in the University of Oulu (Finland) in 1998. Nikolai presented keynote/invited lectures at several international conferences, including ISCAR (International society for Cultural-Historical and Activity research). He published 5 books and over 160 articles/book chapters available in 9 languages. His area of interest is child development in the early years, cultural-historical theory and research methodology. He is an academic fellow at UNESCO Chair for early childhood development and care. Nikolai is a Chief Editor of Culture and Education international journal.
Anne Feryok (2022)
Meg Gebhard (2020)
Carl Ratner (2019)
Terrence Deacon (2017)
Peter Smagorinsky (2017)