The Kirby-Greer Endowed Lectures are supported by William Joseph (Jay) and Catherine Craig Kirby and George and Jane Greer.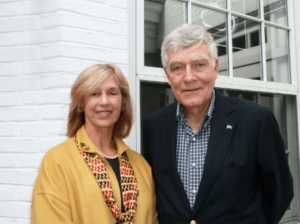 Jay graduated from Penn State in 1959 with a degree in labor management and received his master's degree from Cornell University. Catherine graduated from Penn State in 1961 with an arts & letters degree. Jay is the retired senior vice president of FMC Corporation in Chicago, IL, a leading producer of chemicals for agriculture, food, and pharmaceutical markets. Together they established the William J. and Catherine Craig Kirby Professorship in Language Learning in the College of the Liberal Arts in 1998.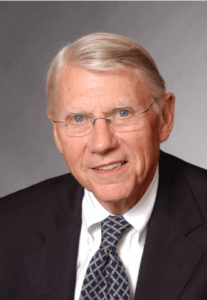 After graduating with an arts and letters degree from Penn State in 1954, George earned his law degree from the University of Pennsylvania in 1957 before starting a 37-year career at H.J. Heinz Company in Pittsburgh. He retired in 1997 as Vice President for Organizational Development and Administration. During his tenure at the company, he assisted and supported the greater Pittsburgh community, including projects with Penn State, through the H.J. Heinz Company Foundation. He and his wife, Jane, established the George C. and Jane G. Greer Professorship in Language Acquisition in the College of the Liberal Arts in 2005.
Anne Feryok (2022)
Anne Feryok (2022)
Speaker: Anne Feryok
Date of talk: Jan 21, 2022, 2:30-4:00p.m.
Title: The personal is professional: Second language teacher development 
Abstract:
Focusing on perezhivanie (lived experience) and personal experience narratives, Dr Anne Feryok discusses how the personal is professional in second language teacher development. She argues that perezhivanie is understood and communicated through narrative; that both perezhivanie and narrative develop over a lifetime; and that multiple narratives about perezhivanija are made coherent in a life story, the means through which we develop an integrated sense of self. For many people, this process involves the reciprocal relationship between personal and professional experiences and commitments in adulthood, such as those that occur in second language teacher development, which may be expressed in professional development narratives.
This relationship is examined in a research interview with a bicultural TESOL student participant, who from his first turn onwards raised seemingly irrelevant personal topics. When the researcher concluded the interview, the participant told a personal experience narrative. Using interactional sociolinguistic analysis of his narrative, Feryok shows how the narrative created intersubjectivity between the participant as narrator and the researcher as audience, coherence among the non-interview and interview topics, and integration of the participant's different identities. The analysis of the participant's narrative shows that the personal is professional is just like the personal is political. Raising personal experience is the foundation of raising consciousness, whether we are talking about the times of our lives, the conditions of our identities, or the expectations of our professions.
Bio:
Anne Feryok is a senior lecturer in the Department of English and Linguistics at the University of Otago. Her main research area is in language teacher cognition and development, mostly conducted within sociocultural theory, and occasionally within complex dynamic systems, both of which reflect her interest in genesis and emergence and ongoing development in different contexts. Her work has been published in international journals and edited collections.
Meg Gebhard (2020)
Carl Ratner (2019)
Terrence Deacon (2017)
Peter Smagorinsky (2017)